Discover our November's new releases !
---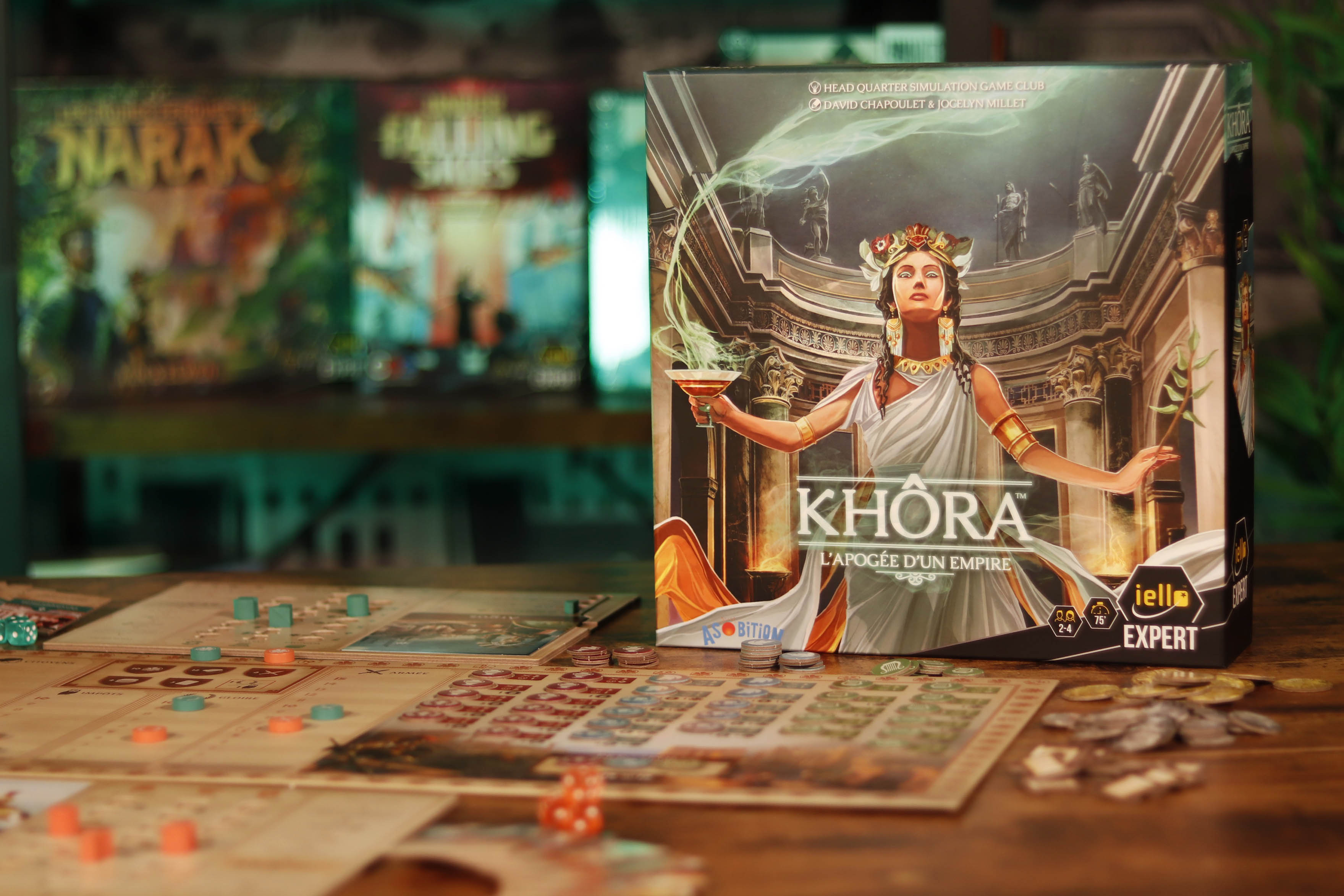 Who says change of month says NEW RELEASES !
ÎLO307 presents the Top 5 of its novelties for the month of November so that you can enjoy them as a gang!
On your dice, get set ... play!
KEMET // V 2.0 DÉTAIL // BLOOD AND SAND
by Matagot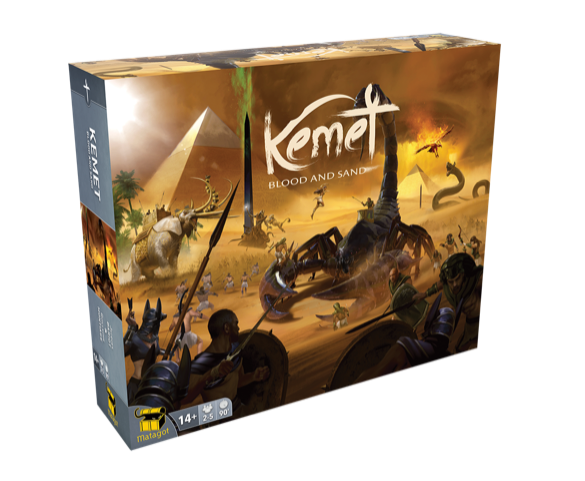 2 to 5 players // 14+ // 60 minutes // Available in FR and EN
In Kemet : Blood and Sand, faith, magic and war come together.
One god will rule.
An endless ocean of sand crossed only by the tumultuous waters of the Nile, ancient Egypt is a dangerous place ruled by mighty gods. As vast as this field is, the time for power sharing is over ... the time for blood and eternal glory in battle has come!
Become an Egyptian god, open the gates of your city as your troops advance singing the song of war, and claim your rightful place as ruler of the black lands of Kemet.
Each player takes control of an Egyptian deity: Anubis, 4 "Buy a Power Tile" tokens in 4 colors Bastet, Horus, Wadjet or Sobek, while they fight for power with the help of their armies.
The player with the most Fame Points at the end of the game is the winner. In Kemet: Blood and Sand, you will choose the actions to be carried out in your turn to build and improve your pyramids, buy and select your powers… and your mythical creatures, with a single objective: to fight and take control of the temples.
List of game components:
- 1 game board
- 1 individual board
- 64 Power tiles in 4 colors (16 Rubies, 16 Sapphires, 16 Diamonds and 16 Onyx)
- 1 Score & Turn Order track
10 Creatures figures
6 Mercenary figures
38 Divine Intervention Cards
2 Special Combat Cards
80 Fame Points tokens
20 Veteran Tokens
5 Statue tokens
2 Storm Overlays
5 Silver and 5 Gold Action tokens
5 Player aids
Components for each player (in 5 colors): 12 Miniature Units, 1 Prayer marker, 1 Order marker, 8 Battle cards, 5 Action tokens, 3 Pyramids in 3 parts each, 4 Pyramid tops in 4 colors (Ruby, Sapphire, Diamond and Onyx), Each player takes control of an Egyptian deity: Anubis, 4 `` Buy a Power tile '' tokens in 4 colors.
by Top-Top Games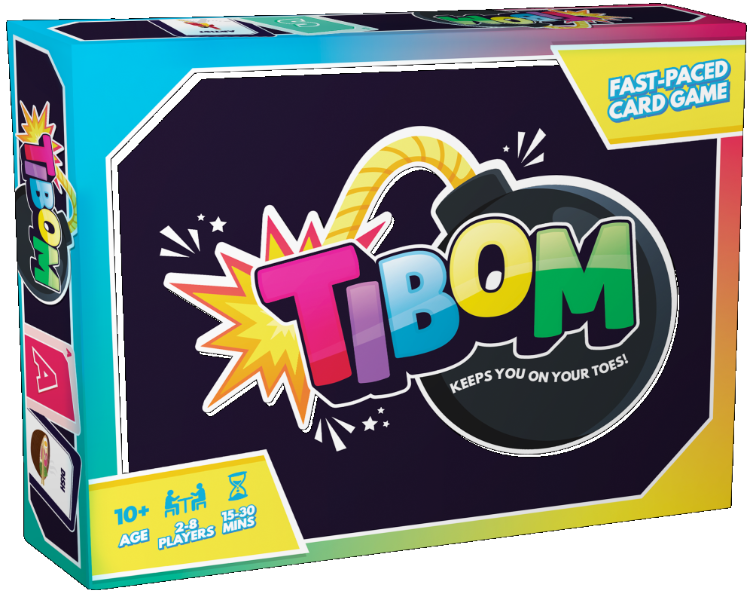 2 to 8 players // 10+ // 30 minutes // Available in FR and in EN
Tibom is a fun and fast paced game where you have to get rid of all your letter cards, before any other player, by matching them to the category on the table. Make other players draw cards by winning DUELS and playing special cards.
Be careful with the Time Bomb!
-Fast pace
-Easy to play
- Perfect for any occasion
-Extremely fun!
by Bombyx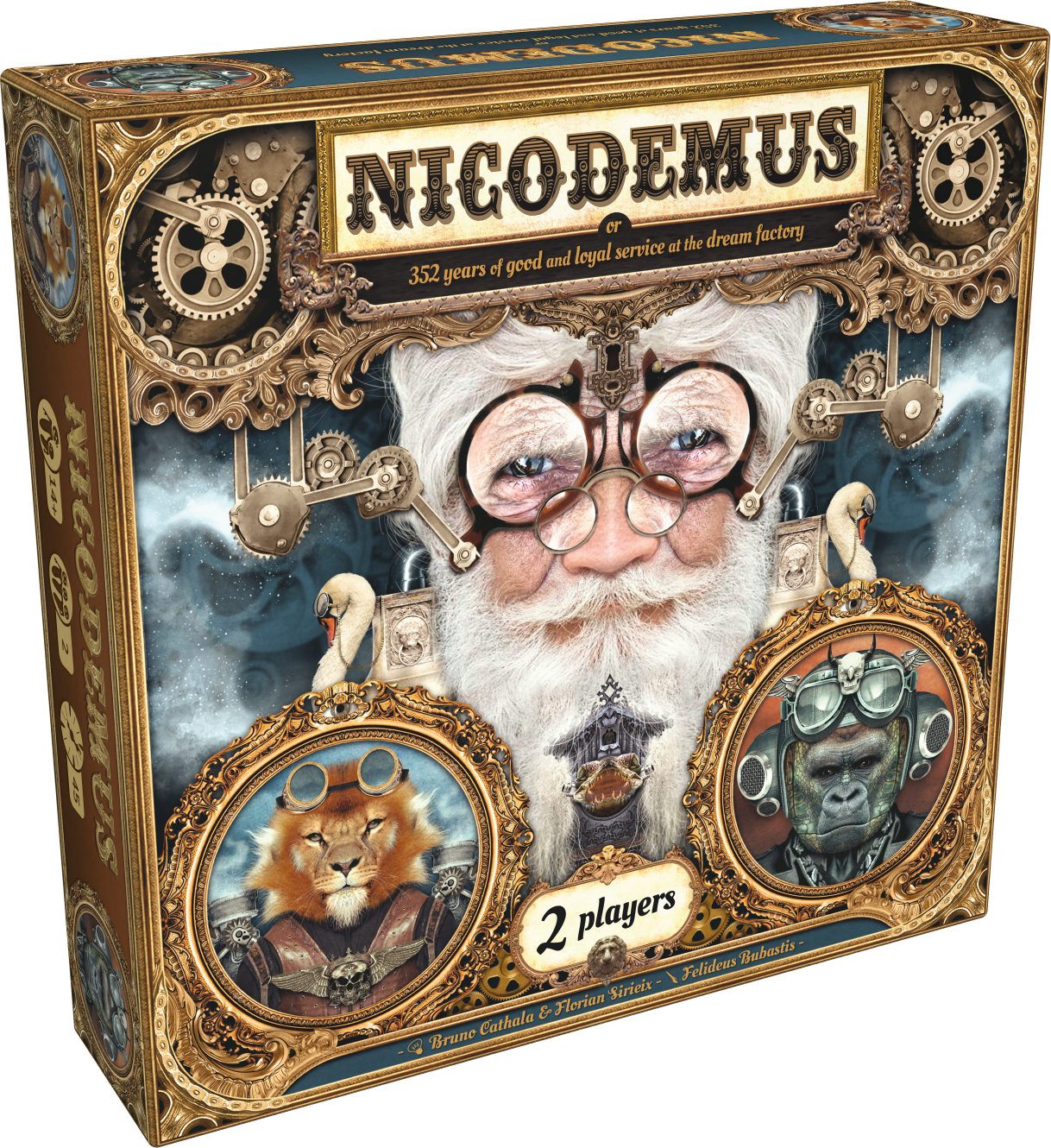 2 players // 14+ // 45 minutes // Available in FR and EN
Discover the universe of Imaginarium in a game specially designed for 2 players!
Do you like it when the tension is building up during the game?
Do you love blocking games with lots of turnovers, where the slightest mistake can be fatal?
Nicodemus is for you!
by Loki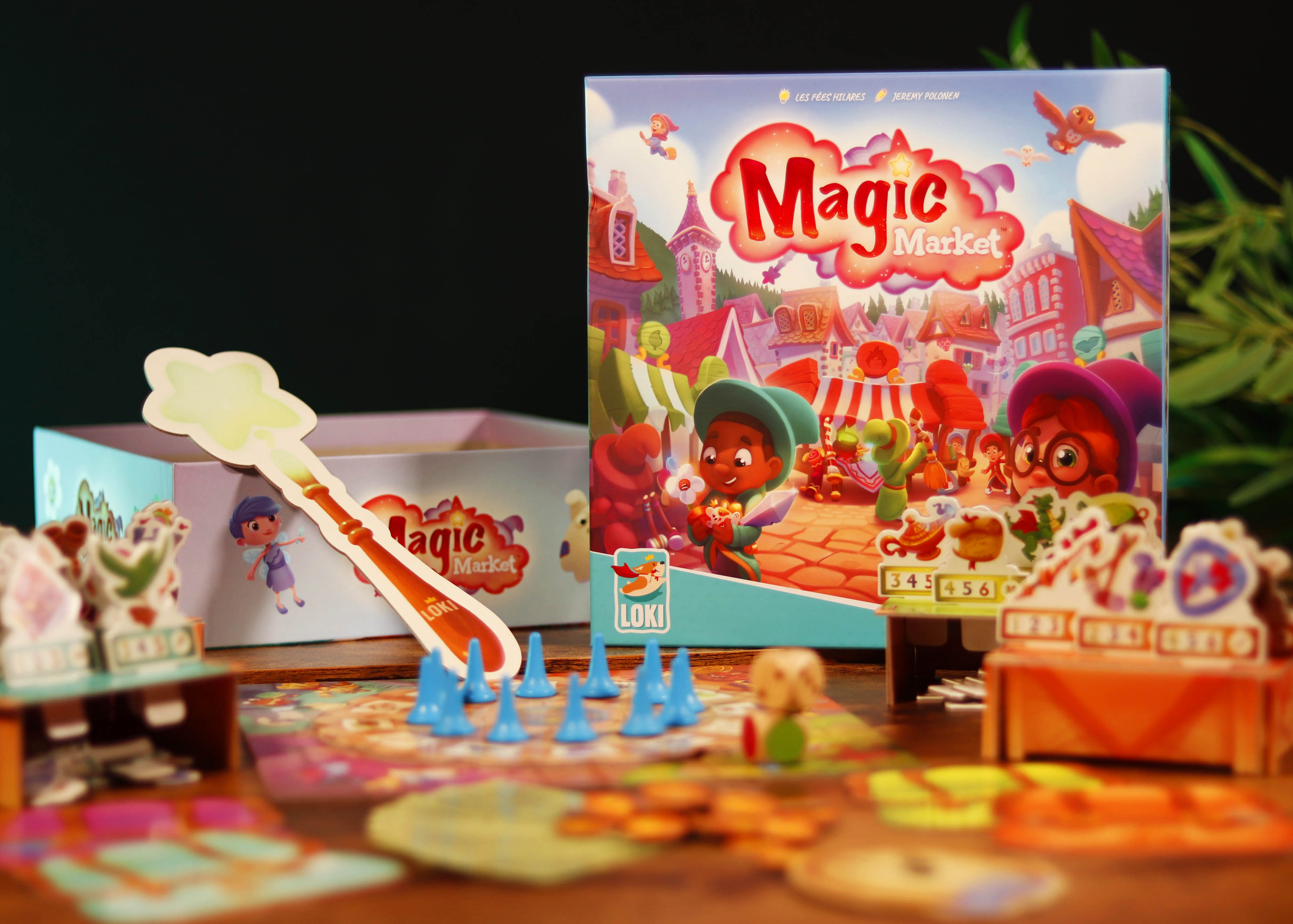 2 to 4 players // 6+ // 30 minutes // Available in FR and in EN
Enter the Market!
In Magic Market, players must sell their magic items at the best prices, in order to get the maximum amount of Dragos, the famous currency of the Kingdom.
The stalls are stocked with all kinds of magical items that are offered to visitors to the market, who walk from stall to stall.
While all visitors seem the same, each of them is looking for a different type of object, represented under their counter. It's up to the players to know how to spot which visitors are likely to buy their items ... and not to lose sight of them as they move around the game board!
• A trading game to share with the family
• A magical, warm and endearing universe
• A magical material with more than 45 Magic Objects
by Loki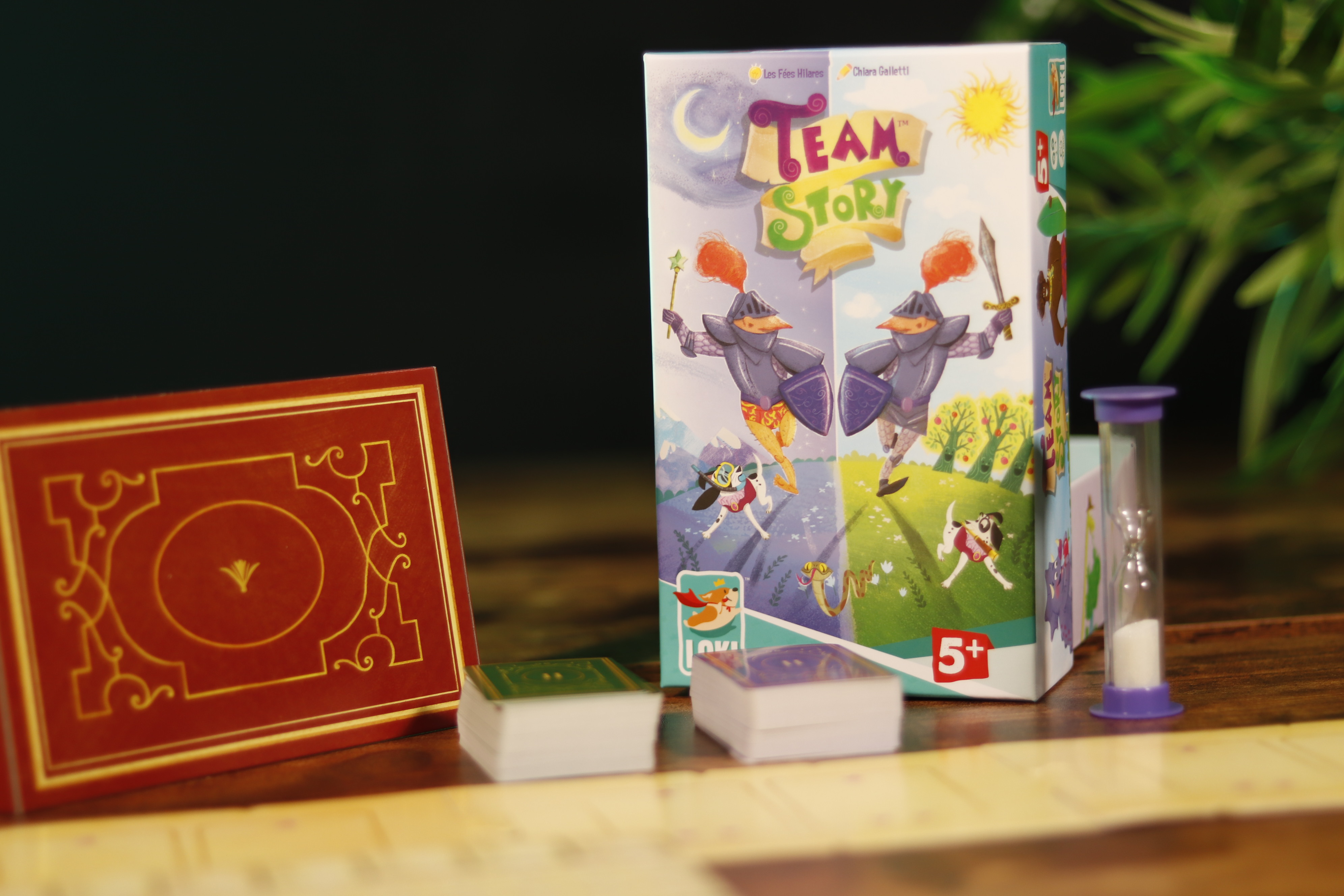 1 to 2 players // 5+ // 25 minutes // Available in FR and in EN
It's panic in the Imaginary library! A magical tornado has turned the storybooks upside down and the stories are topsy-turvy. Storytellers and Auditors must compete in imagination and memory to piece together the stories ... in the right order!
Team Story is a storytelling and memory game, in which players must successively tell each other stories using cards they have in hand.
Each story card is placed in the order of the story on the game board. At the end of the story, the cards are shuffled and placed in the middle of the unused cards.
The player who listened to the story must then find the cards that were played by the narrators and put them back in order.
The game contains two distinct universes (magic or adventures) for stories with enchanting themes!
Focused on storytelling or listening, children love to get lost in the twists and turns of storytelling by providing plenty of exciting detail to their stories.
The more faithfully the Listener renders the story, the more points everyone will be able to score, which encourages everyone to listen carefully to the stories of others.
Alternately epic, mischievous, tender or wacky, Team Story allows players to invent and experience thrilling and intense stories, which they will remember long after each game!
• Ideal for telling a whole bunch of exciting stories
• Two worlds as fabulous and magical as they are wacky
• Modular difficulty to suit everyone from 5 years old